BIOTONE -
Natural Herbal Supplement
BIOTONE - TRADITIONAL INDICATIONS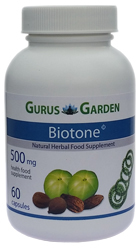 Anti aging.
Skin disorders like eczema, vitiligo, dry skin, acne / pimples of face.
Diabetes mellitus - It can cure and prevent diabetic neuropathy.
All anti-oxidants including vitamins and minerals.
Autoimmune disorder (fibermayalgia, Rheumatoid arthritis, Autoimmune hepatitis, Lupus, Sjogren's syndrome, Goodpasture's syndrome, Wegener's granulomatosis, Polymyalgia Rheumatica, Temporal Arteritis / Giant Cell Arteritis, Type 1 Diabetes Mellitus, Hashimoto's thyroiditis, Graves' disease (thyroid), Celiac disease, Crohn's disease, Ulcerative colitis (GI tract), Multiple sclerosis, Guillain-Barre syndrome (central nervous system), Primary biliary sclerosis, Sclerosing cholangitis, Autoimmune hepatitis (liver), Raynaud's phenomenon (fingers, toes, nose, ears).
Hair re-grows and control hair fall.
How it works:


The natural carotenes, vitamins, powerful antioxidants prevents tissue oxidation through free radicals. The GLA (gamma linolenic acid) and SOD (superoxide dysmutase) protects nervous tissue from peroxidation. The vitamin in the dried fruits protects cardiovascular system; reinforced by the natural vitamin E. Essential amino acids and omega 3 & 6 fatty acids are good supplements to protect cell membranes and its repair. It helps bowel clearance.


ABOUT BIOTONE
BIOTONE
is a 100% natural vitamin, minerals and antioxidants for human body.
Arthrospira Platensis contains a variety of carotenoids which work in synergy as antioxidants, protecting our cells from the damaging effects of free radicals. The two most important carotenoids are beta carotene (which is known to promote cellular health) and zeaxanthin (which is known to promote eye health).
The three medicinal dry fruits Emblica Officinalis, Terminalia chebula and Terminalia bellerika are having abundant bio-vitamins, minerals and antioxidants.
Vitamin C deficient in the Anthrospira Platensis is compensated with the dry fruits that contain plenty. This bio-vitamin C is amplified inside the human body.
This combination is most ideal in providing sufficient micronutrients necessary to prevent tissue oxidation. This results in preventing aging process and to avoid degenerative diseases like cancer, diabetes mellitus, heart disease, arthritis, dementia, parkinson's disease, high blood pressure, high cholesterol or triglycerides.
For more details visit : http://gurusgarden.com